Dehumidifier




Our Dehumidifier comes from renowned European brand DT Group with a vast range of Nominal process airflow from 290m3/h to 18,000m3/h.

Desiccant Technologies Group UAB — is European based, known for high quality technology and desiccant dehumidifiers' manufacturer. Dehumidifiers are intended for use in industrial and commercial applications where dry air is needed.


Our desiccant dehumidifiers are well proven and used in the following areas:
• Pharmaceutical industry- Tableting, Encapsulation, Drug Storage etc.
• Food industry - Confectionery (glazing, cooling, storage), Meat and Dairy, Beverage, Pneumatic transport etc.
• Warehouses- Cold storage, Unheated Warehouses, Silos etc.
• Products storage with close control of the humidity in the air.
• Chemical industry- Mineral Fertilizer Storage, transport etc.
• Shipyards and Marine transportation.
• Energy (equipment preservation with dry air)
• Pumping stations, Hydroelectric power stations, Nuclear power stations etc.
• Power generating equipment- Preservation of Turbines, Boilers etc.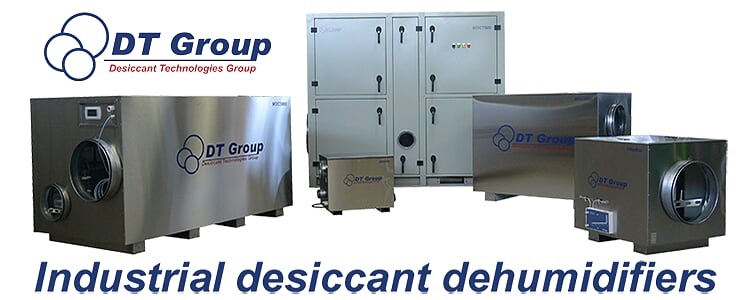 Features
• Compact casing and low weight of the unit
• High performance at low temperatures and relative humidity
• Optional humidistat is available as an accessory
• Microprocessor based control (optional)
• PTC heaters or Tubular electric heating elements for regeneration (standard); water, steam or gas regeneration on request (customized unit)
• Easy access to the internal components of the dehumidifier for the maintenance
• EC-fans
• Air filters G4 to F9 on request
• High efficiency of the washable silica gel rotor
• All components made exclusively by European manufacturers
• Rigid and corrosion resistance casing made in stainless steel (up to size MDC3000) and in AluZinc powder painted sheet metal (MDC4000 and bigger).


Please Click here to download the product catalog

To visit their website, click here.